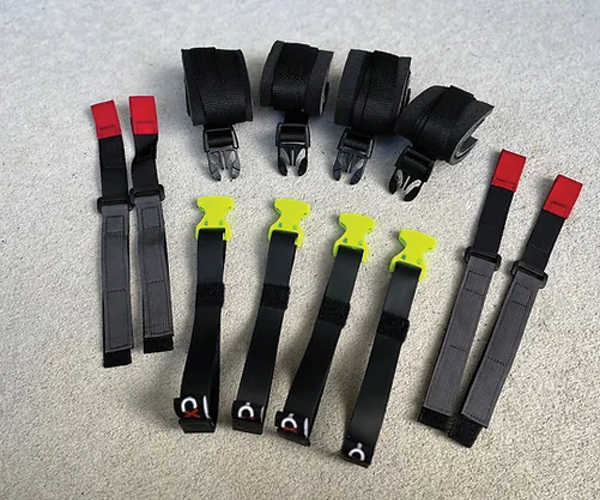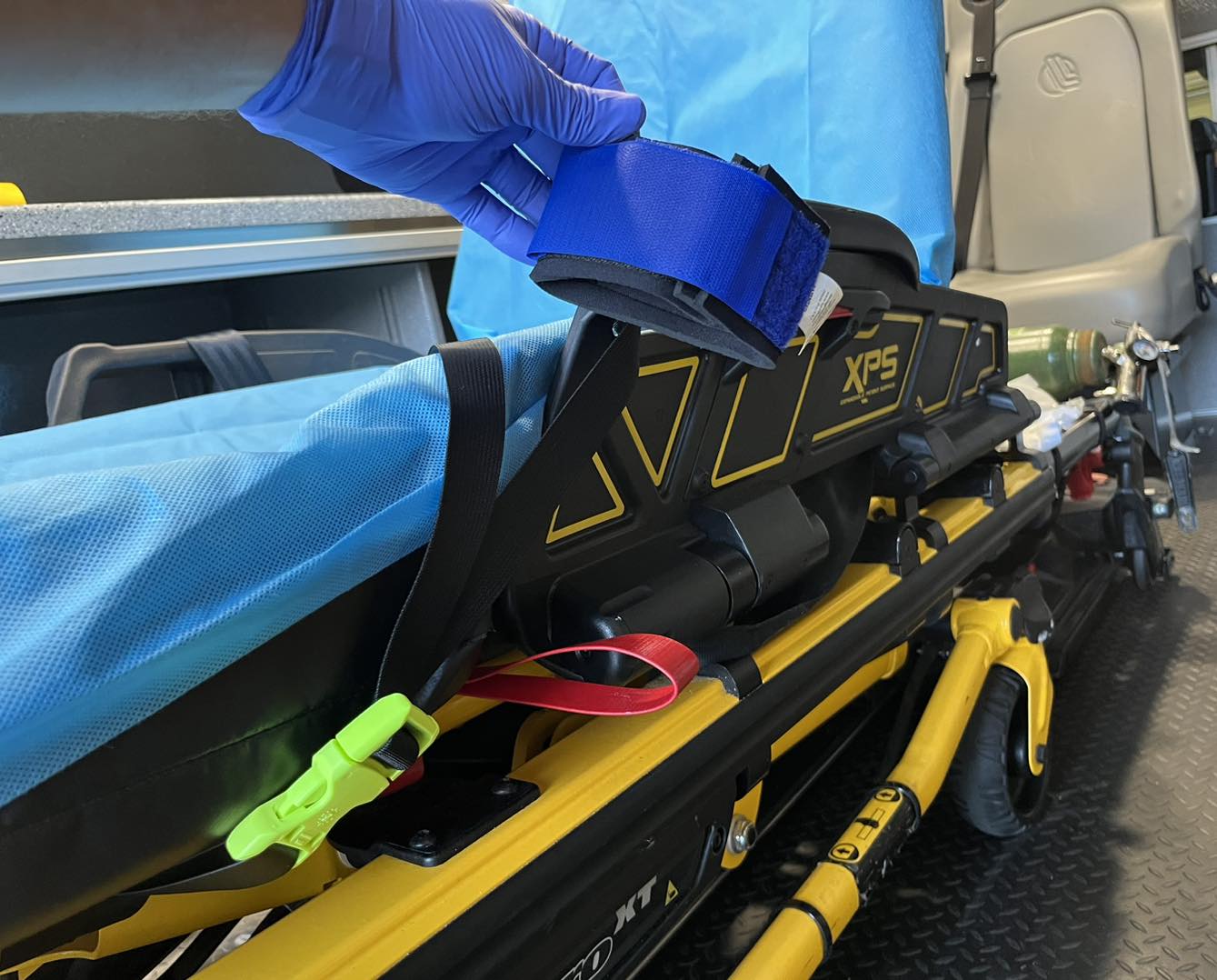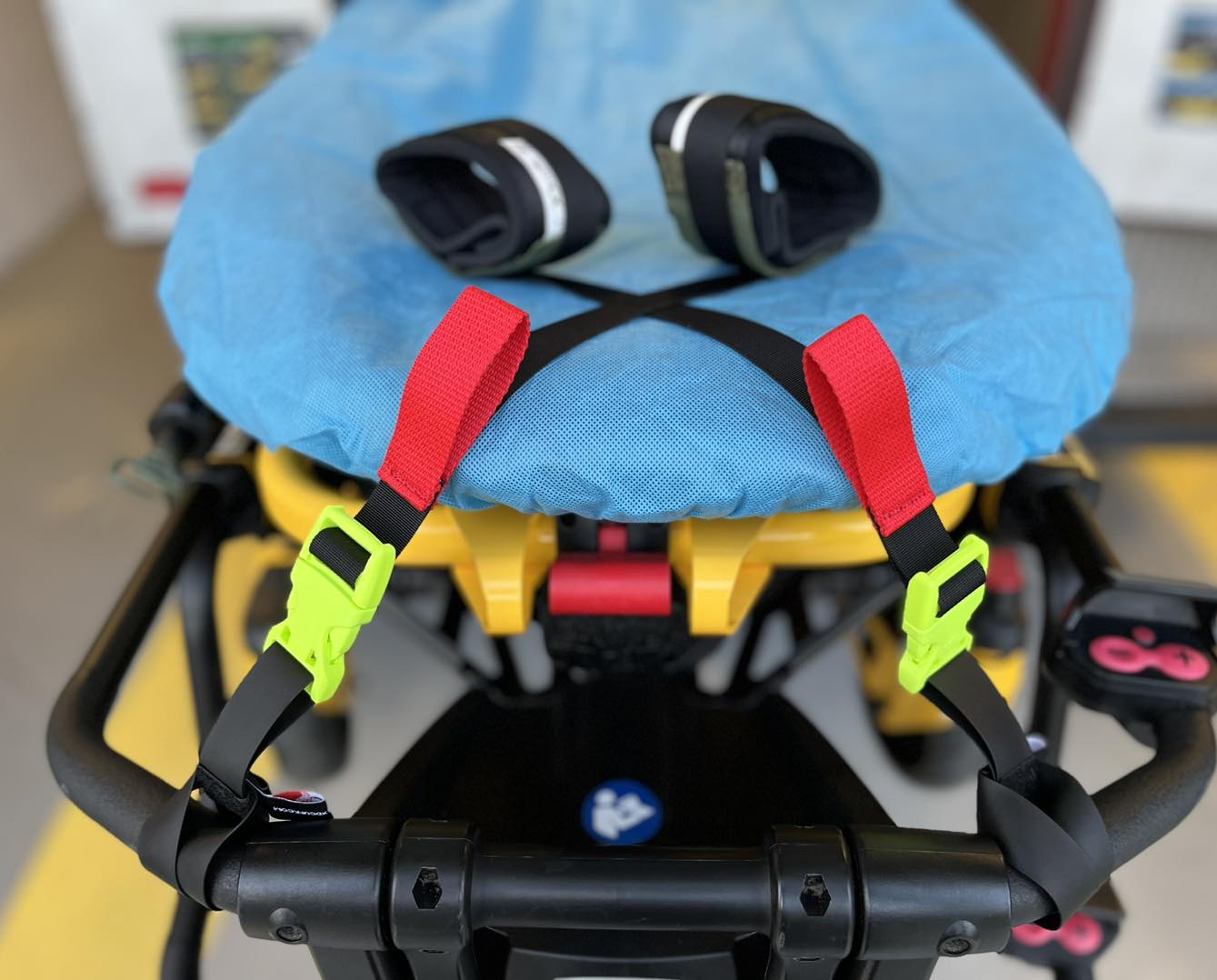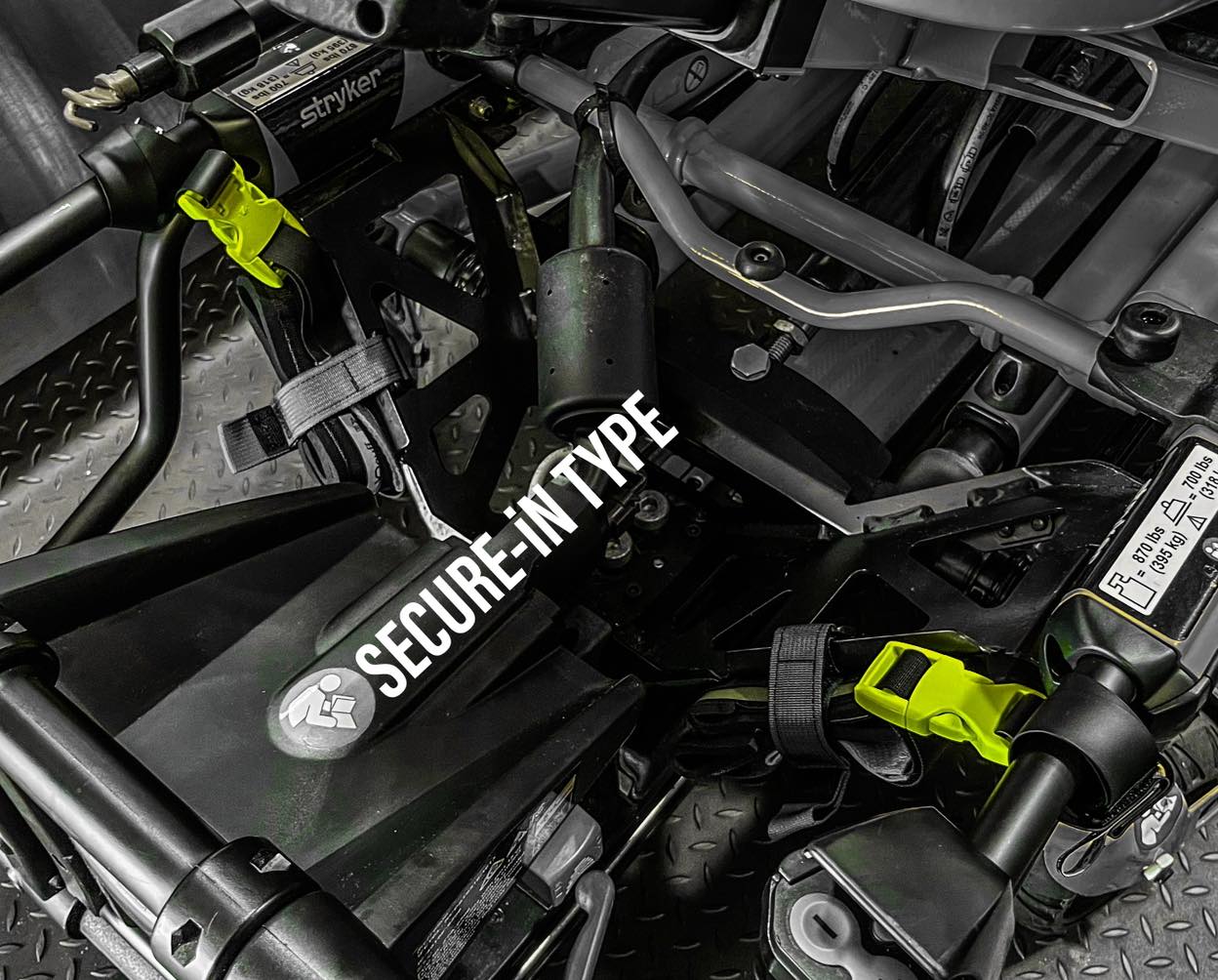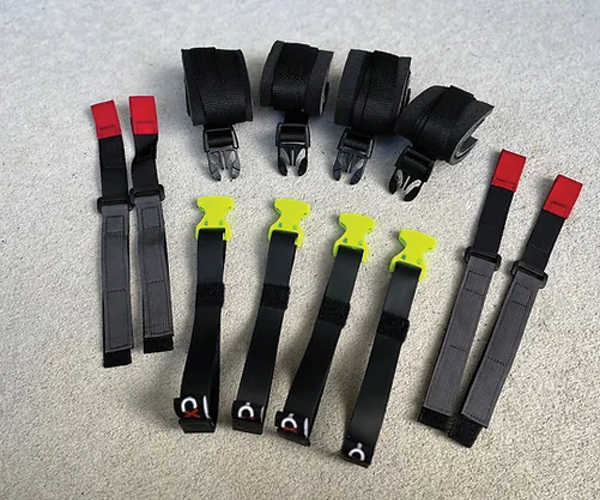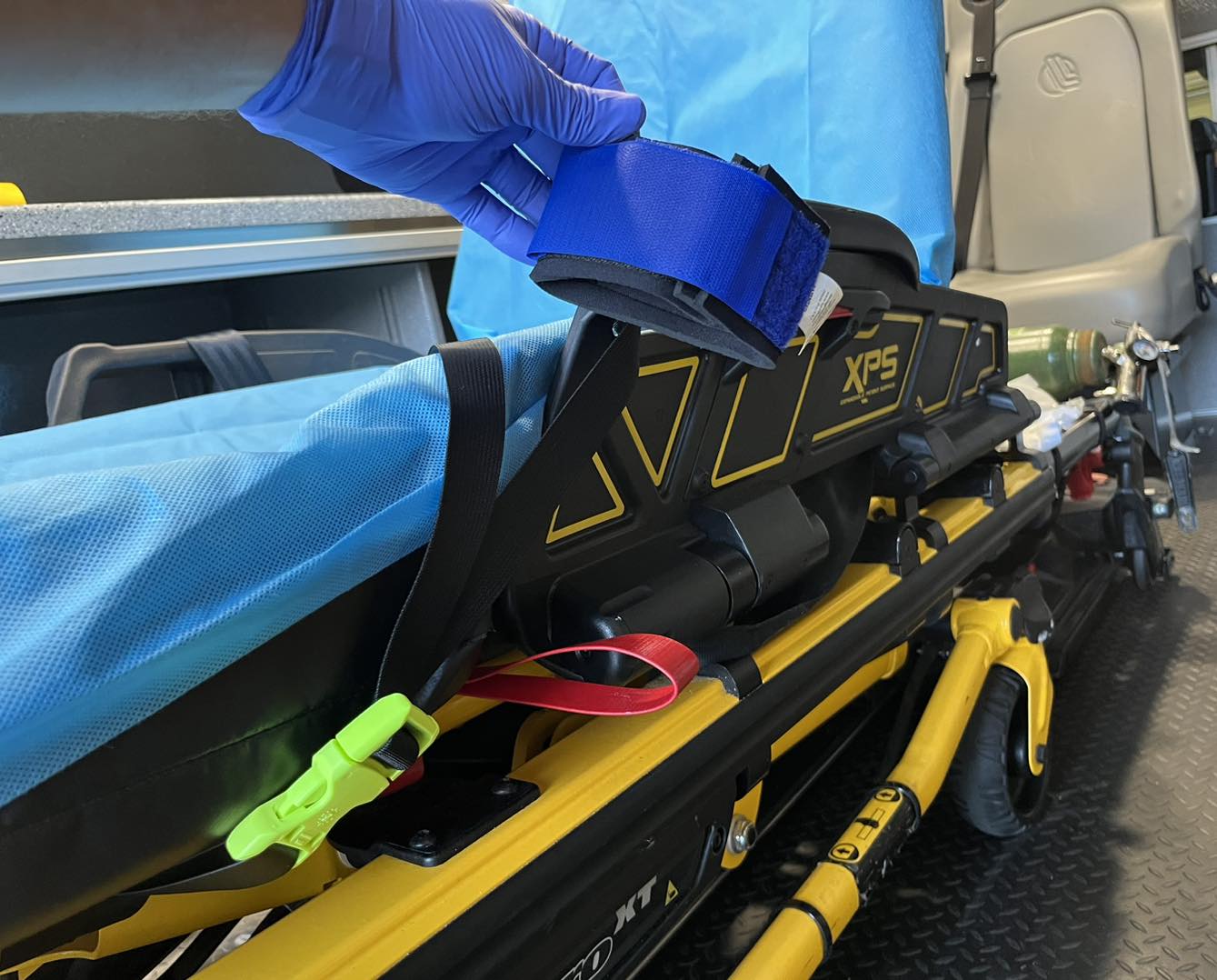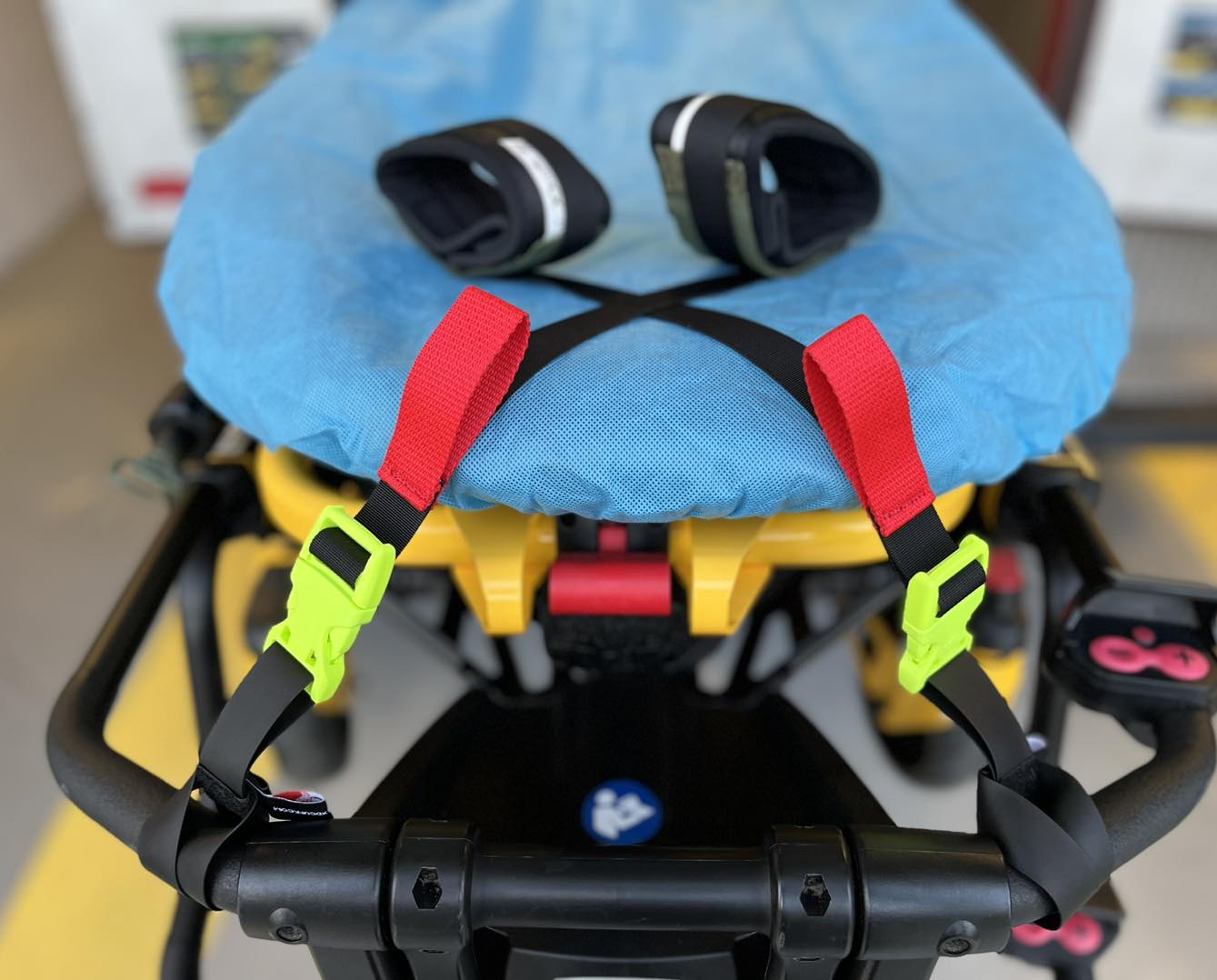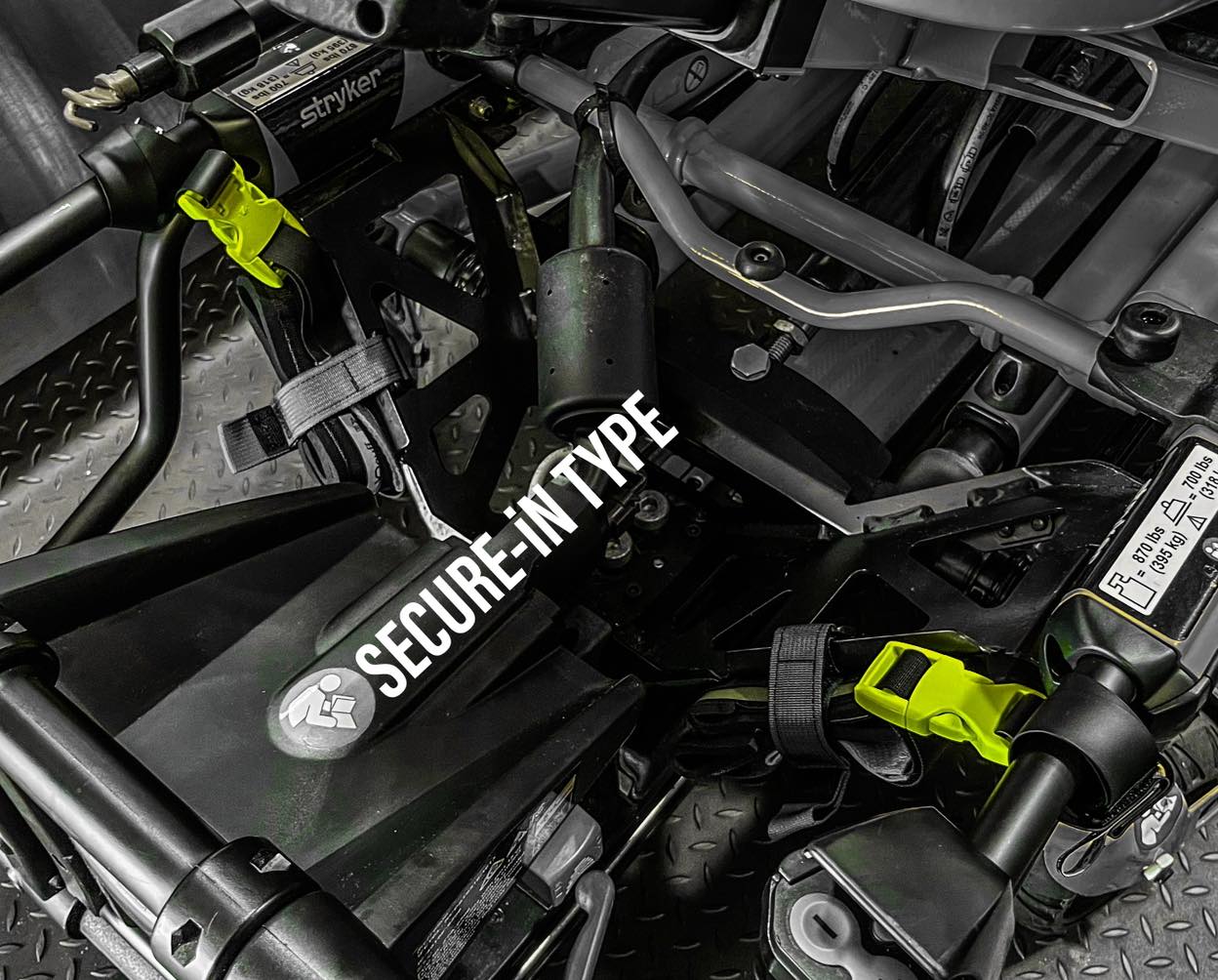 XDcuff
The rate of violence-related injuries with lost work days for emergency care providers is 22 times higher than the national average for all workers. It's time emergency care providers upgrade from 18th-century patient restraint techniques to avoid these injuries.
The XDcuff is a stretcher-integrated limb restraint that helps emergency care providers quickly and easily restrain uncooperative patients. Equip your stretchers with the XDcuff restraint today and reduce the risk of you or your partner getting hurt by a patient displaying signs of aggression.
Sure. You can roll the dice for your safety and continue to use traditional soft restraints that aren't strength tested and require lengthy knot tying. Or, you can invest in the XDcuff and know that the next time you're faced with an uncooperative patient, you'll be able to restrain them - Safely and Easily.
Request a quote below to outfit your stretchers with the industry leader in patient restraints.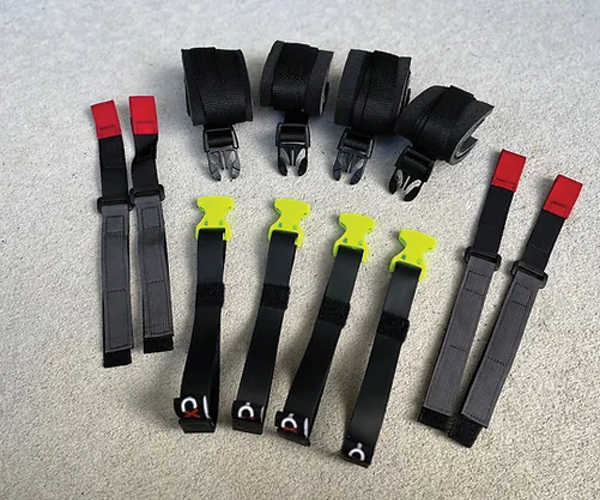 This starter pack includes everything you need to outfit one stretcher with XDcuff® (fits Ferno® or Stryker®). This pack includes a set of four permanent Clip anchors, set of four cuff securement straps, a pair of reusable ankle restraints, and a pair of reusable wrist restraints.
XDcuff® Clips and Securement Straps  are permanently attached to the stretcher so that when restraint is needed, cuffs are readily available use. The Clips are made from Biothane® coated webbing and the strongest quick-release female buckle on the market (rated at 450LB). The Securement Straps are made from nylon with DuraGrip hook & loop fasteners. Once in position, they secure the XDcuff limb restraints to the stretcher and store them for rapid access.
XDcuff® Reusable Limb Restraints greatly reduce the risk of injury by simply reducing the amount of time emergency care providers spend with uncooperative patients. Improve treatment and on-scene times when treating confused and agitated patients. Using a standard application plan helps eliminate any confusion on how or where to anchor restraints. Improve safety without the high cost.
The XDcuff innovative design change pre-connects the anchors (clips) and limb restraints to the stretcher for fast access and deployment in these emergencies. No more time wasted searching, looping, or tying special quick-release knots. Eliminating these steps has proven to greatly reduce restraint times providing for a much safer and more effective work environment.
The XDcuff reusable restraints and clips are proudly made in America and are covered under a 2-year manufacturer's warranty.
This product is machine washable under CDC guidelines for materials contaminated with blood or bodily fluid.
Before washing fasten all buckles and ensure hook and loop closures are connected.
Use a laundry bag to maximize product life.
For mild contaminated products wipe with alcohol based wipe.
If bleach is used, rinse thoroughly before drying.
Dispose of restraint if grossly contaminated with blood or other bodily fluids.
XDcuff

vs. Traditional Restraints
TOP RATED

patient restraint for emergency care providers

We have them on all our stretchers
We do interfacility transport of Behavioral patients all across Utah, and have been using XD cuffs for a while now. They have great customer service to answer your questions, and they videos to help train your crew on their product. We have had to use the XD cuff on pediatric and adult patients. This is a safe way for your staff to help your patients from harming themselves and others. We have them on all our stretchers.
JT Thomas
Operations Manager, Guardian Transportation

We discovered the high value of the XD Cuffs and the ease of use
We are a hospital based ambulance service and will respond to about 38,000 request this year. We are about 60/40 split between 911 and inter facility transfers. During the trial we discovered the high value of the XD Cuffs and the ease of use. We found the winning combination for our service to be the re-usable XD Cuff with Secure straps. This combination keeps the straps tucked in and out of the way for day to day use of the cot, but available within seconds when needed. No more fumbling around with a bag of stuff that may be missing items and trying to manually restrain a patient while trying to get straps set up.
Dale Grimm
Paramedic, Carle Arrow Ambulance

Durable, Easy to Use, Rapid Application
We have been using the XDcuff restraint system for just about a year now. Our service does well over 80,000 runs and over 55,000 transports per year. The XDcuff system has worked really well for us with regards to durability, ease of deployment, and rapid application. The use of this product has resulted in safer transports for people in crisis and also has worked well to keep our staff safe. We have not seen any type of failure of the XDcuff system, even when applied to the strongest and biggest of people.
Charles Sloan III
Deputy Chief of Operations, Hennepin EMS

These XD Cuffs are awesome!
These XD Cuffs are awesome! Way faster then the crap we had before! Simple to use and strong 💪 keeps even the biggest dudes on Bath salts secured to my stretcher!
Dylan Evans
Firefighter, Jacksonville Fire Rescue Department

We use the XDcuff a lot
We use the XD cuff a lot and absolutely love it. We have a large psych population and a week long EDM Rave festival that we use it a lot during.
Eliz Drake
Battalion Chief, Miami County EMS